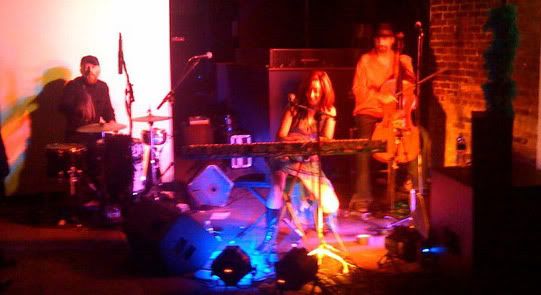 Rachael Sage is one of the performers WWR is lucky enough to call friend. She has visited us & performed at our events & taken the time to call in to the show in the past. The picture above is from her record label, Mpress Records, showcase at CMJ last month, where Mieka Pauley, Amber Rubarth, Seth Glier & Antigone Rising also performed. One of the things I love about Rachael's live performances is you'll never see the same show twice. This show in NYC included a very comical improv song harassing her hard working record label staff and an amazing story about wanting to be a stripper when she grows up (that actually explains a few things....jk Rachael!).
Today's blog is to share Rachael's new video for "Too Many Women". If you saw this summer's remake of FAME you would have heard the remix of this song (its also featured on the soundtrack).
As the song goes "Too many women and not enough of you", Rachael Sage is incredibly entertaining and it just doesn't stop. I can't get enough - I'm now addicted to her VLOG! Check out the Glamorous (and not so Glamorous) life on the road in Rachael's VLOGs (featuring WWR's Meredith as tour manager/camera operator extraordinaire). Here's a taste of what happened while touring Scotland.
Rachael has recently been in the studio recording a cover song. Its a surprise, but i'll keep you posted.