The name Girl in a Coma doesn't really evoke the imagery of kick ass rock trio, but it will when your done with this blog. For those old enough to remember the song "Girlfriend in a Coma" by the Smiths, you'll understand the reference and the vocal similarities between the soulful front woman Nina Diaz and Smith's main man Morrissey.
What I really love about GIAC is their versatility. Not just with a change of speed or melodic direction, but in genre and influence. Listening to their latest cd Trio B.C., I've become very curious what music they've grown up with & found inspiration in. While I'm sure they are easily referred to as a punk trio, individual songs seem to have a trunk firmly planted in roots rock and blues. Watch the video for "El Monte"
My friends often hear me complaining about the lack of femme rock bands these days. Its not that the ladies aren't playing, its that they aren't getting the support & the buzz to bring them to a certain level. GIAC is one of the bands that has cut through that a bit. They have a well produced album that sounds both original and produced at a quality that is 'radio friendly'. Watch the video for the more upbeat "Static Mind"
Plus, they totally know how to bring it on stage! I caught their show in Northampton, MA at the Ironhorse a couple weeks ago (excuse the iphone quality pics)and found myself pogo'ing for the first time in years. Amazing energy on stage.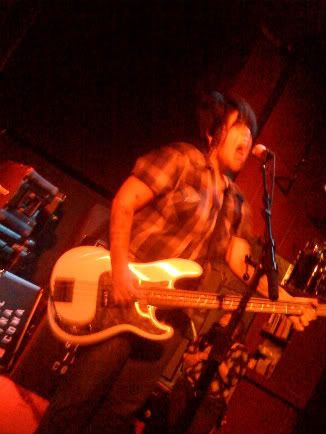 In my opinion, these ladies are one film or TV placement away from breaking through. But don't wait for the music supervisors to discover them, get their new cd Trio BC now.
Blackheart Records store
PS 2/3 of the band is queer. Doesn't necessarily make them cooler, but it doesn't hurt. lol