So, as you may have noticed, I meant to continue blogging about the concerts of the summer. Unfortunately, I was constantly on the road & never really stopped to write. So here is a bit of a speedy recap on some of the great shows I had the chance to see including Cyndi Lauper, Mates of State, The Rescues & St. Vincent.
St. Vincent at Pearl St. in Northampton, MA
This was my first time catching
St. Vincent's
live show. I really like her artistry as a songwriter and some of her recordings are very beautiful, but in the live show there is an energy and aggression that now makes the recordings seem flat in comparison. She is a great guitar player to watch and surrounded herself with incredible musicians that quickly switched instruments from flute to clarinet to saxophone to violin...a great mini orchestra.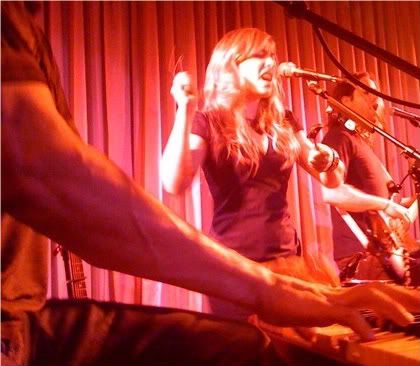 The Rescues at the Canal Room in NYC
The Rescues
are Kyler England, Adrienne Gonzalez, Gabriel Mann, and Rob Giles, all amazing singer/songwriters on their own who came together to form an amazing collective. You may have heard their music on TV (Grey's Anatomy, Army Wives, Guiding Light) which is exactly how I first became acquainted with Kyler in particular (thats her rockin' the spoons). Their music is smooth & delicious like soft serve ice cream (sorry, i'm a bit hungry while writing this). Each of them seem to have the gift to craft a catchy pop tune, but what makes it even more enjoyable is the beauty of their voices, both individually and the way they blend together in complex harmony.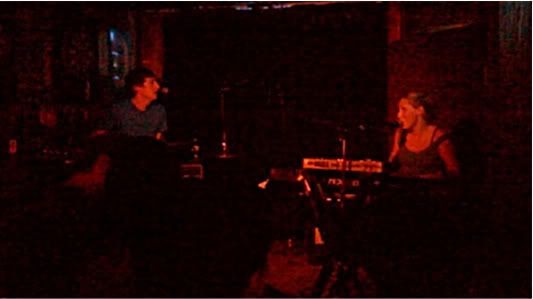 The Mates of State at Cafe Nine in New Haven
Some of you may know that
Mates of State
call East Haven, CT home. Lucky us! They played a small show at Cafe Nine with some friends back in June. I've seen them previously at larger clubs, but when i heard hours prior they would be at the Nine I had to cancel other plans and haul ass downtown. It was well worth it. I have been extremely supportive their music on the radio show and I do appreciate their music although, I have, in the past, found them a bit overwhelming with happy, bouncy tunes (all of which are fun in singular doses). At this show i really noticed their growth as a duo and as songwriters. There was much more variety in their songs and their performance. I look forward to seeing what's next for them.
Cyndi Lauper & Rosie O'Donnell at Proctor's Theater Schenectady, NY
No pictures of this one. I was sitting in the front row balcony...beyond the reach of the iphone's prowess. The show started with a 25 minute stand up routine from Rosie that included talk of strap-ons & oral sex that had me blushing (i was sitting next to my parents). It reminded me of how I loved her comedy prior to her talk show days....ah yes, i remember it well. I am almost ashamed to admit this was my first time seeing Cyndi. I know, its practically blasphemous of me so I couldn't pass on this show. She was fantastic. I don't know where she gets her energy from as a performer. She was running all over the stage & down the aisles belting out the tunes as if she just wrote them yesterday. She did all of her hits and a couple of her newer dance tracks (did i mention the gays were out in force? I never knew there were so many in my hometown!!!) where was I?? Oh, yes, the kicker. The kicker was Rosie was one of her back up singers and even played drums some! As I left the theater I realized some of the most memorable moments of the night were Cyndi and Rosie bantering in between songs, talking about shopping, Madonna's sexuality, Oprah's money, LMAO. Seriously, if Rosie and Cyndi got a talk show on cable I would sooo tune in.
In case you have missed what Cyndi has done recently, I'll leave you with her last video "Into the Nightlife"