Peaches performance at Paradise Rock Club November 16th
Many musicians make their tours larger than life with big budgets, expensive programmed lights, pyrotechnics, etc. Peaches is pure creativity in motion, from the opening entrance in bird like costume to her 'nude' leotard, there were at least six costume changes, each re-entrance with choreographed theatrics complete with wigs, props, fake blood & faux Iggy Pop.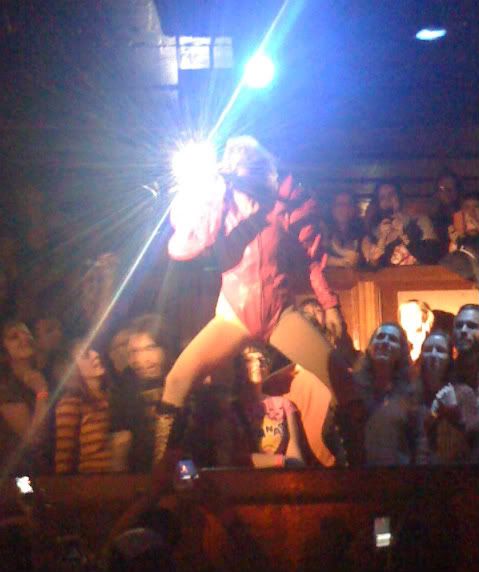 Can I say I was blown away by her vocal skills? I was. Early Peaches tracks were mostly talking and light singing. On the most recent cd I Feel Cream she does more full on singing and it was good to see that it wasn't studio magic. All sounded good live.
I feel I can no longer call myself a tech geek. There are many new creations as electronic instruments (and they aren't all involving an iphone app) and I can't keep up. I especially like the
jedi light saber
Peaches rocked. (if you know the proper name for this piece of awesomeness, please let me know)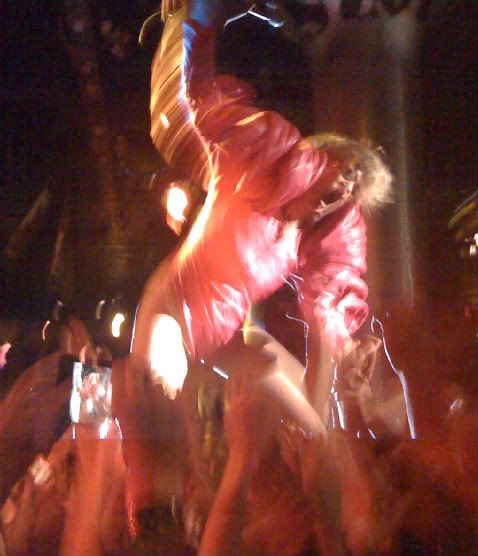 Peaches surfing the crowd above my head
As you can expect from her music, her live show is very sexual. When technical problem caused a pause in the show she shouted "Who wants to f*ck me? a good gang bang will pass the time". But Peaches is a well rounded rock star. While in Boston Peaches was honored by Harvard for her achievements in entertainment. She is now an honorary member of the Harvard Lampoon.
Learn more about Peaches at
Peachesrocks.com